BATALEON EVIL TWIN SNOWBOARD
So the Bataleon Evil Twin it's quite unique among snowboards in there it's got about 20 years worth of heritage behind it. It's an incredibly versatile board that'll excel anywhere on the mountain and you can almost give it to any level of rider; from absolute beginners through the advanced level riders stomping 540's in the park! Everyone will get something unique and fun out of this Snowboard!
The construction of the Evil Twin explains what makes it such a unique board starting with flex: it has got a flex level of about 5/10, that means it's still soft and playful enough for new snowboarders, it's nice that you can take it at the park play about jibbing and buttering but at the same time it's stiff enough that if you're charging you're really carving down some corduroy will hold its edge really nicely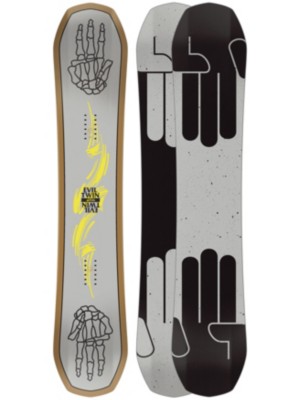 The Bataleon Evil Twin as you'd expect is a twin snowboard (so the same distance from the centre to the nose as it is to the tail) this makes it really easy to ride switch and also progress your park skills what it also means is that the Evil Twin is constructed around Bataleon's twin 3BT now if you don't know TBT it is completely unique to Bataleon Snowboards, it is their way of constructing a snowboard in three dimensions that still allows them to shape the centre of the board with traditional camber shapes, Through the Evil Twin there is a medium camber profile; this medium camber provides great pop and performance not only off of kickers but in and out of the turns. Then the nose and the tail of the board are shaped into three different sections, a flat centre base and then two uplifted side bases, this means the Evil Twin is a unbelievably versatile snowboard, having that a three-dimensional shape you'll find it much more forgiving with much less edge catch, also easier to carve because it just naturally finds its way up onto the edges of the board and even taking it into the park you'll be able to push yours freestyle skills that much harder because TBT just works for you!
Internally the Evil Twin's based around Bataleon's "Core" a lightweight poplar construction reinforced with birch for a really lightweight snowboard with fantastic memory and pop! It has also been reinforced with Bataleon's central super tube (C.S.T.), a hollow carbon rod that runs through the centre of the board they're allowing Bataleon to make the core of the board thinner to reduce the weight and also producing even more pop from the actual snap of the board without increasing any torsional stiffness.
Carbon layup inside of this board is worth mentioning as well because of how it is different; now most snowboards tend to use carbon lengthways to stiffen up the whole length of the board and to deliver more charge and directional performance with the evil twin it's actually got two carbon X's underneath the feet, underneath the bindings to get greater edge-to-edge response whether that's in between your turns or if you're winding up for a spin in the park this layup allows you to get quicker response out of the snowboard whilst keeping its overall nice playful spirit.
Lastly it's worth noting that the Bataleon Evil Twin is finished with a Hyper Glide S sintered base, a high end base much better than the likes of extruded, so it holds the wax for a lot longer meaning you'll have fewer servicing costs and also runs quicker get great a whip of acceleration.
So the Evil Twin it's a snowboard that suits almost any type of terrain; it's got float in the powder, it's nice to cruise around on the mountain, it's great in the park and it is also suited to almost any level of rider!
It also comes the huge range of sizes being Bataleon's flagship snowboard seven sizes anything from 149cm up to a 159cm Wide it's always worth bearing in mind that with the triple based technology you'd ride this maybe 3cm shorter than you would a traditional flat based board, if you've got any questions about sizing please get in touch we'll be happy to help!
If you've got any more question about the Bataelon Evil Twin Snowboard or any other Snowboards please get in touch 01202 738448
IS BATALEON A GOOD SNOWBOARD BRAND?
---